The deadline for abstract submissions for the 4th Healthy City Design International Congress has been extended to 2 June. This year's theme explores 'Designing resilient communities: Recovery, renewal and renaissance'. This year submissions will also be considered for remote digital presentation as well as 'in person' attendance, as the congress evolves in response to COVID-19 (for more details click here).
Download the Call for Papers here. Abstracts of papers to be presented should be submitted via the online form by our extended deadline of 2 June 2020. Abstract submission guidelines are also available.
In a rapidly urbanised world struggling to adapt to a climate crisis and the public health emergency of a global health pandemic, the ability of our cities and governments to keep all citizens safe and well has never been under greater scrutiny. Public health professionals, scientists, urban planners, architects and policymakers must now speak with one voice on the need to make our cities more resilient in the face of far-reaching, life-changing threats.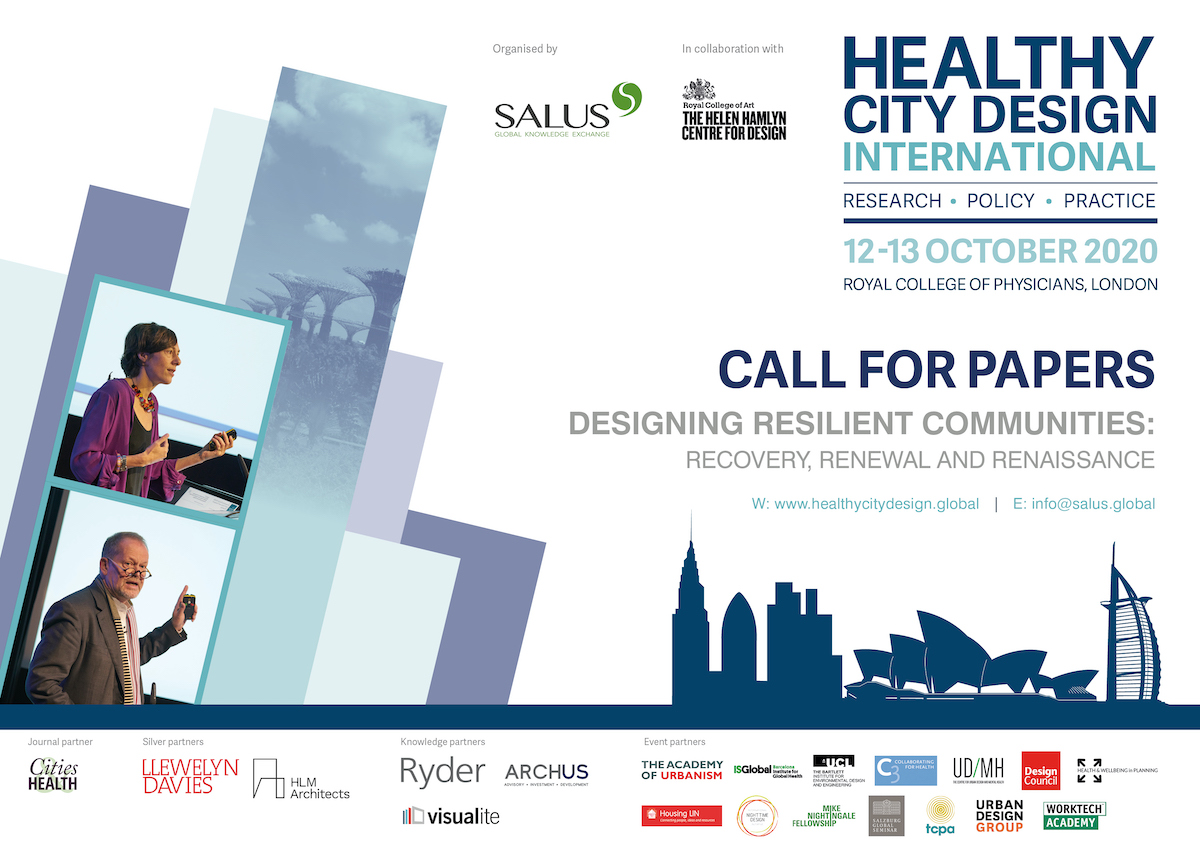 A multi-faceted concept
However, the whole concept of resilience is multi-dimensional. In its narrowest sense, resilience means snapping back into shape after some adverse incident or effect. It implies the buoyancy, strength and ability to recover an original position or form – but resilient cities are required to do more than that in the context of becoming healthier places to live and work. They must anticipate the future and have the capacity to adapt their disease-resistant and health-creating systems and designs accordingly.
Resilience takes on many different aspects when applied to the healthy city. There is the challenge of environmental resilience that will protect city dwellers from floods and fires, and other adverse climate conditions becoming increasingly common amid a growing sense of climate catastrophe. There is also the conventional healthcare resilience planning we see around international medical emergencies, such as the COVID-19 outbreak. As new hospitals are constructed in China in a matter of weeks as part of a rapid response to infectious disease control, we're already witnessing the next chapter in healthcare resilience.
But what about operational and technological resilience to keep cities running efficiently, with transport systems moving, workplaces connected to the global digital grid, workforces able to access work, and goods and services flowing around the urban realm unencumbered? In other words, what are the steps to keep the economic pulse of the city beating?
Then there is social and community resilience. How can design strategies in the built environment create more social connection among people of all ages and abilities, improving air quality, decreasing isolation, reducing inequalities, delivering green spaces, and providing safe, affordable housing to boost community wellbeing? Connected to this, we also find the issue of food resilience: as life expectancy stalls among the poorest, how can our cities maintain supplies of fresh, locally produced food that will fuel citizens, avoid panic-buying in times of distress, and prevent ill health? Resilience is not simply a big topic for the healthy city – the impact of COVID-19 means it is now the burning question of the day.
Recovery, renewal and renaissance
In this, the 4th Healthy City Design International Congress, we'll look at the resilient city from many angles – from creating more resilient homes, neighbourhoods, transport systems and workplaces, to the design decisions that underscore more resilient placemaking, and urban renewal. We'll look at how smart technologies support the resilient city – and at how low-tech social innovations also have a big impact. We'll share best practice through case studies and encourage new practice through toolkits and frameworks. Scales of resilience will be examined from recovery to complete renewal, and the kind of transformative effect on city living implied by the term 'renaissance'.
There is a logic to focusing on the resilient city in 2020. The inaugural Healthy City Design International Congress in 2017 looked at the Wellness City, creating a shared agenda for design and public health professionals to work together more closely. In 2018, we explored the Equitable City, reviewing design strategies to reduce health inequalities. In 2019, the City at the Crossroads modelled both utopian and dystopian views of the future.
A matter of global urgency
This year, the Call for Papers is more urgent than ever – how do we adapt and change to prevent, avoid and mitigate disaster, whether natural or man-made? The Healthy City Design International Congress and Exhibition 2020 will take place at the Royal College of Physicians, London, UK, on 12-13 October 2020. It's organised by SALUS Global Knowledge Exchange in partnership with the Helen Hamlyn Centre for Design, Royal College of Art. Papers are invited from the spheres of practice, research and policy.
We're delighted to invite you to contribute and participate in the exchange of knowledge on the design of our future cities. We welcome abstracts addressing issues within low, middle and high-income countries, and from across the disciplinary spectrum at the intersection of research, practice and policy.
Various formats, from the presentation of themed papers and posters to interactive workshops, are encouraged and should be submitted by the extended deadline of 2 June 2020 at www.healthycitydesign.global.
We also recommend viewing videos of talks from previous congresses in the Talks section of our online community and journal at www.salus.global/journal.
Important information: Due to the global pandemic, the form of the 4th Healthy City Design 2020 Congress is under continuous review, with the prospect that the congress will be held online using digital formats as well or instead of the physical event. We therefore encourage submissions for remote digital presentation as well as 'in person' attendance. The registration model will also be adjusted accordingly in these circumstances. Further guidance on the format will be available at a later date prior to publication of the preliminary programme.