When national governments go astray, it's useful to have other people who can step in and drive the conversation in the right direction. In the urban health space, that means action on equity, planetary health, and the wider determinants of health.
Carlos Dora's opening remarks in the first session of the Healthy City Design Congress 2022 provided the launchpad for representatives from three major organisations in the field to describe how the vast knowledge we have on climate, health and equity can be turned into action – particularly at a time of global crisis.
Dora, president of the International Society for Urban Health (ISUH), noted: "We have these global challenges and planetary health explains those very well. What it doesn't explain is how we as individuals, at the local level, in our neighbourhoods with our peers, can contribute to that very massive, complex set of issues."
Planetary health, he explained, still suffers from a notion that nature is all physics, and the solutions are all engineering.
"Some of the solutions are engineering," he conceded, "but most are borne out of the social engagement and connections and decisions. So how do with bring our groups together in a more strategic and more organised way to build the field of urban health?"
At the ISUH, while keen to create the knowledge necessary to address the social determinants of health in all public policies – from green spaces and housing, to energy and transportation – the organisation is also very interested in how this is done and with whom; for example, which institutions, which frameworks, and how knowledge is implemented.
And in moving to transformation, there has been a moment of reflection among the global policy and knowledge institutions about how to move towards transformation. One key element in this shift, said Dora, is building the healthy city design field.
At the ISUH, this involves taking deep and active learning and reflection on how the overall field is performing, understanding the underlying approaches and theories of change that have been used, as well as their achievements and limitations. It concerns having an active process of engagement with initiatives, actors, networks, and a variety of population and interest groups. And it consists of identifying gaps and opportunities to strengthen the field – reinforcing existing successes, building up weaker areas, demonstrating where each one is contributing, and enhancing connectivity and common ground.
"We're very far behind where we should be, in terms of the climate, the planet, and also in terms of the people and equity," Dora concluded. "Cities have a lot to contribute and we need to maximise the opportunities."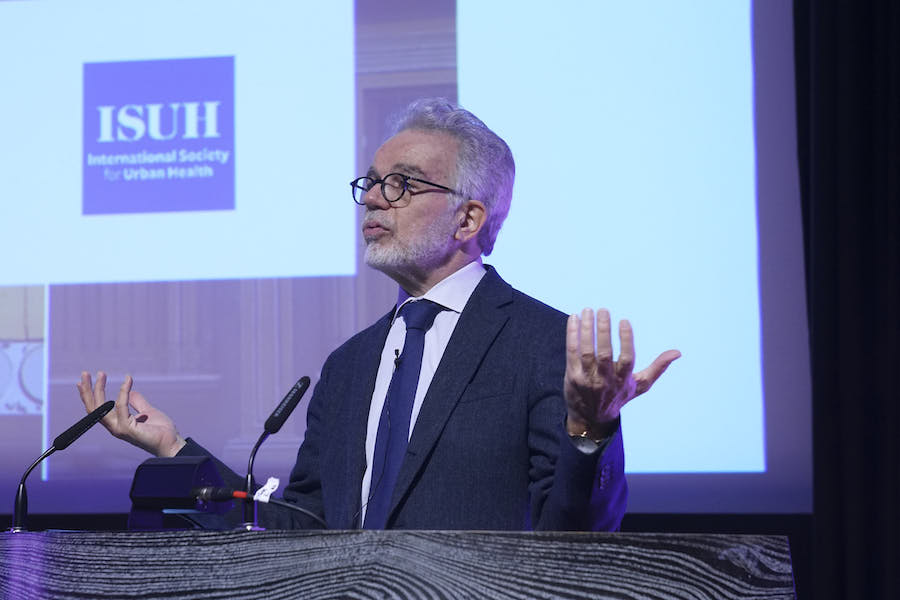 A mandate reinforced
Nathalie Laure Roebbel, unit head of urban health at the World Health Organization (WHO), took up the baton by running through the agency's own urban health agenda. Describing urban health as the measure of how well urban systems and city actors function together to enable dwellers to enjoy physical, mental and social wellbeing, she highlighted how the Covid-19 pandemic had influenced policy with a clear recognition that "urban planning was fundamental to reach health", that "urbanisation was not only a key driver of health and wellbeing but also a key driver of universal health coverage", and that "cities play a key role in addressing health emergencies".
Consequently, the WHO has strengthened its mandate to address urban health, even creating a cross-cutting programme to bring together all its work on urban health under one flagship initiative.
Roebbel went on to describe four examples on how the WHO is strengthening its corporate approach to urban health. Firstly, it's developing a strategic guide for urban health, addressing an urgent need for a holistic urban health agenda. The guide will seek to clarify terminology, estimate the scale of urban health challenges, make a compelling case for holistic action, link to other major policy priorities, and identify clear entry points for urban health action.
Alongside this is the need to strengthen capacity development for urban health, which the WHO is looking to achieve through developing a learning and training programme on urban health that will help urban health stakeholders to reduce the "triple health threat of communicable diseases, non-communicable diseases, and violence and injuries".
A repository of WHO resources has also been launched, providing a one-stop-shop for practitioners at the local level to find all the materials that the organisation has been producing over the last decade on urban health.
And in collaboration with the ISUH, the WHO is setting global research priorities for urban health. These are: strengthening links between urban health research findings and actions to promote urban health; building city-level evidence on the relationship between policy, environmental, economic and social factors in urban environments and health outcomes; generating evidence on under-researched thematic areas; and generating evidence on under-restricted urban population subgroups.
Operationalising a systems approach
In the third and final keynote, Montira Pongsiri, senior advisor, climate change and health at Save the Children, focused on how organisations should adopt a systems-based approach to taking action on climate, health and equity.
"In Save the Children's work, addressing the health impact of climate change is critical because climate adaptation and mitigation planning cannot ignore health," she said. "Doing so could result in trade-offs and unintended consequences.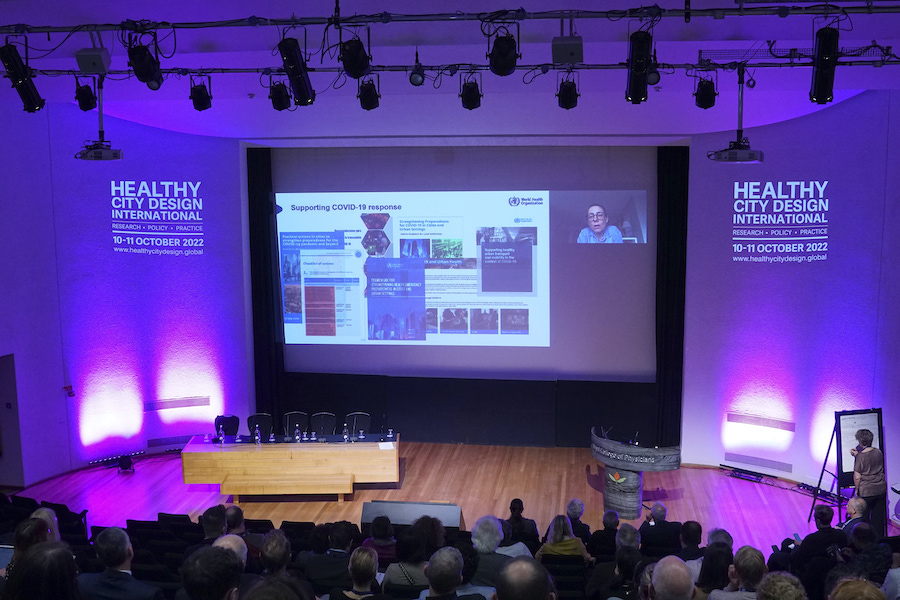 "One direct impact of changing climate on health is heat stress. Climate change leads to extremes in temperature and higher temperatures that cause heat stress and other temperature-related illness and death. . . By 2050, half of the world's population will live in the tropics, and rising temperatures will make these places increasingly unliveable."
Systems thinking, she explained, constitutes an attempt to understand a whole system rather than its parts. It can be applied to identify interconnections and the most effective leverage points to stimulate positive change within the system. And it helps to reveal the differences between the root causes and symptoms of complex problems.
Many determinants of health, she said, fall outside of the health sector's responsibilities, such as activities in energy, transport and agriculture, but they contribute to climate change and, at the same time, affect health. Furthermore, the relationship between climate change and health can be non-linear and complex, leading to "health outcomes that are hard to predict, and unintended consequences, including disproportionate adverse impacts on underprivileged groups, in the present and over time".
Consequently, a multi-sectoral system space approach is needed to address climate and heath.
"The key to operationalising this systems approach to climate and health is the integration of knowledge on climate, their health impacts, and other social determinants that affect this relationship," said Pongsiri. "Integrating this knowledge into tools is needed to support this decision-making, needs and gaps."
Five barriers also need to be overcome to address climate, health and equity together. They include: limited awareness; inadequate recognition of co-benefits; decision-making silos; limited participation of communities; and inadequate resources, both human and financial.
Among its priority programmes and actions, Save the Children wants to see anticipatory action – linking early warnings to address food and nutrition insecurity; nature-based solutions – that reduce diarrhoeal disease and improve access to clean water; sustainable urban design that is community led; a strengthening of health systems that enables climate adaptation; and youth and gender engagement in co-designed climate actions for health.
And with governments fire-fighting on numerous levels and struggling to give the moral leadership and economic stability needed to push the agenda at the top, there is an urgent need for participatory community engagement in climate and health to keep things moving on the ground. Said Pongsiri: "By applying health impact assessments and/or systems mapping tools, it leads to building shared understanding – the first step in informing climate adaptation for climate, health and health equity."