We're delighted to launch the Final Programme for the 6th Healthy City Design 2022 International Congress. Taking place in-person at the Royal College of Physicians, London, UK, on 10-11 October 2022, the Congress will also be live streamed online through our virtual event platform.

On-demand tickets now on sale.
The Congress is organised by SALUS Global Knowledge Exchange in collaboration with the Helen Hamlyn Centre for Design, Royal College of Art, an internationally renowned research hub in the field of inclusive design.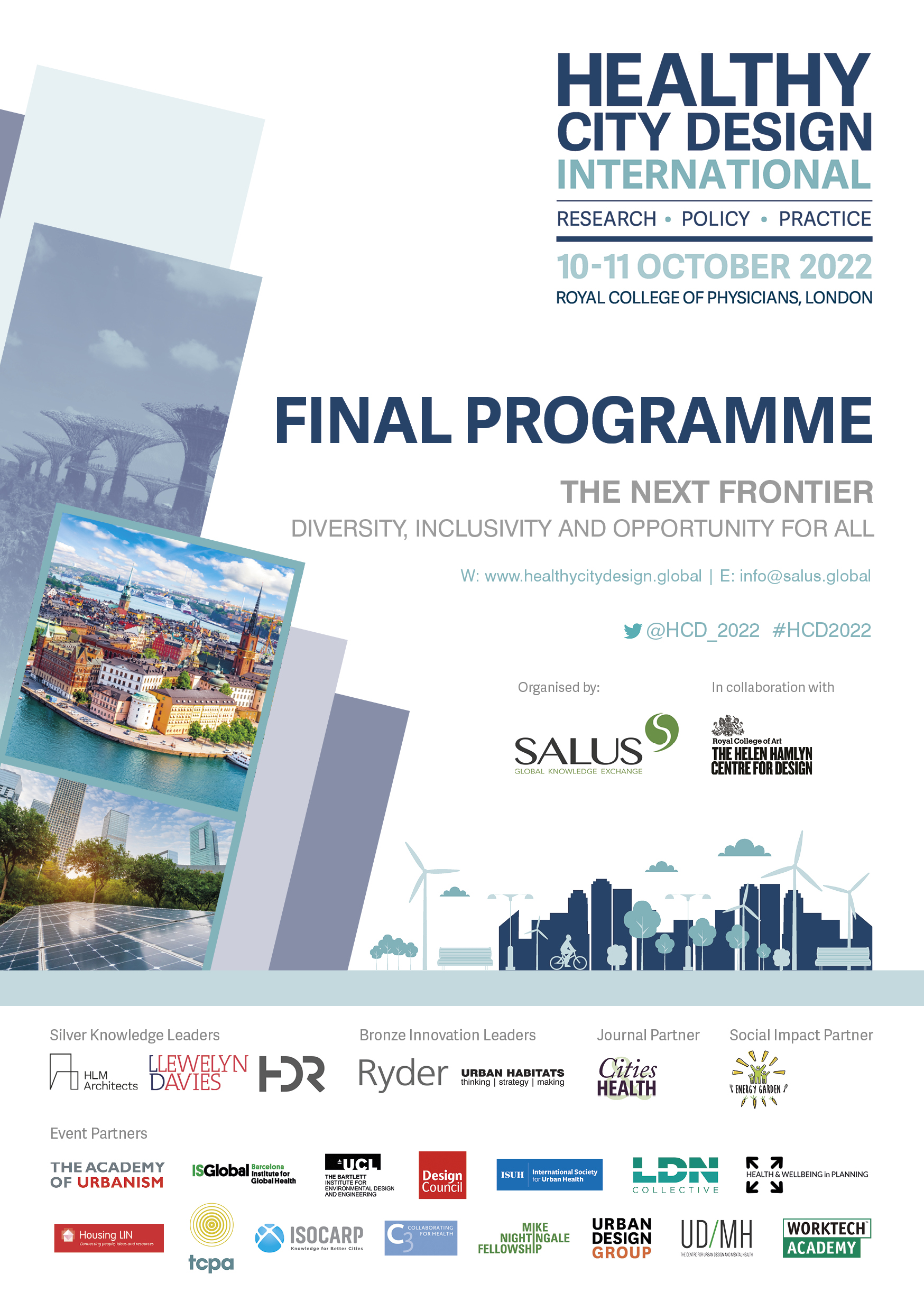 The next frontier: Diversity, inclusivity and opportunity for all

Our cities have pulled back from the brink in the aftermath of the global pandemic and are now on the road to renewal. There have been many lessons for urban planners, architects, policymakers and public health professionals to absorb from the coronavirus crisis that also apply to planetary health action – none more so than the need to make our cities more inclusive, diverse, and equitable to create opportunities for all.
This is an exciting time to fast-forward to reimagine and remake the city for all. 'The Next Frontier' will see new amalgams of expertise and knowledge addressing the vital questions around inclusion and diversity in the professional disciplines in design, technology, urbanism and health.

Business organisations will lean into the city as part of their ESG (environmental, social and governance) commitments. Architects and engineers will plan for the complexity that comes with including a wider range of needs and desires. Public health experts will pilot fresh approaches and technology providers will seize the moment.
Previous editions of the Healthy City Design International Congress have looked at creating a shared culture of wellness, reducing health inequalities, building resilience in cities and dealing with the impact of Covid-19. In 2022, we pull all of these themes together and ask: how can designing for inclusion, diversity and social equity support healthier lives in a thriving urban realm?
Bridging the gap between research, policy and practice

The Healthy City Design 2022 (HCD 2022) International Congress & Exhibition is a global forum for the exchange of knowledge on the research, policy and practice of designing healthy and sustainable cities and communities.
Each day will open and close with keynote plenary sessions before splitting up into four streams (eight in total). Day one will focus on: homes and neighbourhoods; population health; planetary health; and transport and mobility. Day two will cover: urban design, planning and public realm; smart cities, work and workplace; inclusive and accessible design; and designing for young and old.
The event will also host a Video + Poster gallery of innovative research and projects, and a knowledge-focused exhibition of design solutions for cities, communities and workplaces. The Congress organisers are also delighted to invite participants to join the programme committee for an Evening Networking Dinner with live jazz from the Royal Academy of Music on Monday 10 October.

Tickets and registration
On-demand tickets are now on sale. More details can be found here.