"Everyone's got something to learn and everyone's got something to teach" is one of the mantras of the Institute for Healthcare Improvement (IHI), and it aligns closely with the philosophy behind Lord Nigel Crisp's latest book, Turning the World Upside Down Again – an updated version, with a slightly amended title, of his 2009 publication.
Lord Crisp, co-chair of the All-Party Parliamentary Group on Global Health and a former chief executive of the NHS, used this keynote talk to present insights from the book, which shows how affluent western countries can learn about health from low- and middle-income countries and from poorer communities in their own countries.
At a time of great uncertainty, characterised by pandemics, climate change and political turmoil, it's vital that traditional western ways of thinking about health change radically, he asserted, and combining learning from all countries and all communities will help bring about these changes.
Currently, health systems are built on an unfair model of exchange, he said. "Low-income countries export health workers to high-income ones, and in return, they import our ideas and ideologies – whether they work or not. What if we did it the other way around – if high-income countries exported health workers to low-income ones and imported some of their ideas and approaches?"
He argued that we need to create a new ecological approach to health based on the intimate links between the health of individuals, the health of their communities, the health of wider society, and the health of the planet.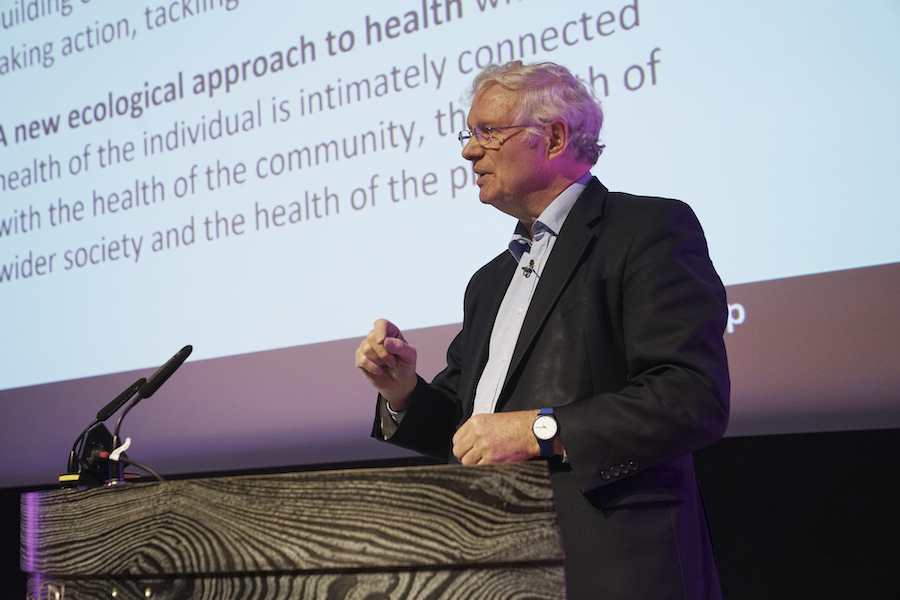 Lower-income countries have more disease, more poverty, fewer resources, and are powerless in international trade and wider relationships. Their systems are too weak and they can't deliver the health outcomes they desire, Lord Crisp explained. Conversely, in high-income countries, services are designed for 20th-century needs, with high costs and incentives that promote the status quo of power and hierarchy. Their systems, suggested Lord Crisp, are too strong and get in the way of curing people and helping people.
The upshot: we're all in trouble.
Learning from lower-income countries and communities
Lord Crisp continued by describing some examples of new health models in the developing world. One featured in the book is BRAC, in Bangladesh, which was set up to help the ultra-poor when East Pakistan became Bangladesh in the early 1970s. Comprising a micro-finance arrangement set up to support women, BRAC helped establish shops, schools and hospitals – so health became part of a holistic support structure for the ultra-poor.
Another model, in Canada, involved Indigenous people setting up the Toronto birth centre, a facility that is based around their culture and safe clinical practice, where there is room for people, room for ceremonies, etc.
And in Brazil, community health workers have been trained to work in communities, visiting houses in villages, providing advice, support, some levels of care, and roots of access into the wider health system. A similar model was set up in Westminster, London last year, added Lord Crisp, with workers mentored by community health workers in Brazil.
These examples and others, he explained, are about breaking down the barriers between health, education and work; working with communities and families; a mix of public-sector, social and business enterprises; and training for the job and not just the profession.
In the UK, too, there are examples of learning from lower-income communities. Examples include the Penwerris estate in Falmouth, Cornwall – a place afflicted with poverty and violence. A health visitor rounded up some professionals to form a committee, with services, including police, housing, education, health, etc, working with five people from the locality. This co-working model helped reduce teenage pregnancies, postnatal depression, and crime rates, and even helped improve boys' achievement levels at school.
Another example is Salford Dadz, a community group that was set up in Salford, Greater Manchester, in recognition that a large number of unemployed men in the area could be a major community asset. Not only did the men start to do things to support the local area but a lot of the first intake all secured jobs, thanks, in part, to their enhanced self-esteem.
Action across four levels
Action on health in the 21st century now constitutes action on four levels – the individual, the community, society and the planet, continued Lord Crisp.
For the individual, it's about primary and community services, and community health workers. It's about local services, good access to specialist ones, the changing role of professionals, and science and technology.
For the perspective of community, action encompasses a focus on belonging; living space and planning; local facilities; healthy homes; and access to nature.
Action at the societal level involves capitalising on opportunities and addressing inequalities; introducing education and training; creating employment and businesses; focusing on food and agriculture; and, as with community, the importance of developing healthy home and buildings by ensuring, at the very least, some minimal standards.
Finally, the planetary aspect needs to consider planetary health; the impact on carbon and resources; the development of circular economies; and models that balance growth and sustainability.
Turning to one of his other positions, as chair of the All Party Parliamentary Group on Global Health, Lord Crisp offered some insights and speculation on how the health professional might see their role change in the next 15 to 20 years.
"Change needs to happen in the most important place of all – inside the heads of the professionals," he said.
The probable future will likely see blended in-person and virtual working; services provided in communities and homes; health co-creation with patients; a stronger focus on public health and mental health; enhanced teamwork; and flexible employment. It may also lead to other changes, such as self-organising teams; a redesign of primary and community care; reforms of professional education; and global partnerships to increase numbers of health workers.
Above all, Lord Crisp argued, health workers will need to become agents of change and curators of knowledge, as this is the "only way to tackle wider social determinants of health".
This role will be about influencing, shaping, guiding and supporting; making knowledge available; and embracing a new professionalism and social activism.
"It will involve a massive change in mindset and education," he concluded, "who you talk with, who you walk with and work with, and thinking differently."