Health creation in the form of interventions that positively improve health and wellbeing should be the determining factor for built environment, planning and placemaking policies. That's according to Prof Rachel Cooper OBE, who opened the second day of the Healthy City Design 2022 Congress with a keynote talk on 'what creates healthy cities'.
Running though the key recommendations of a report published in July by the Commission on Creating Healthy Cities (CCHC), Prof Cooper expressed the importance of leadership, "people able to wrestle the powers into their own local authorities and local communities", as well as the visionaries, "people who will make creative, risky decisions on behalf of their communities and with their communities".
The CCHC was run by the Global Centre on Healthcare and Urbanisation (GCHU) at Kellogg College, the University of Oxford, in partnership with The Prince's Foundation. Set up to investigate the links between urban matters and health and wellbeing, the CCHC launched in December 2020 and concluded in Summer 2022 with the launch of the report.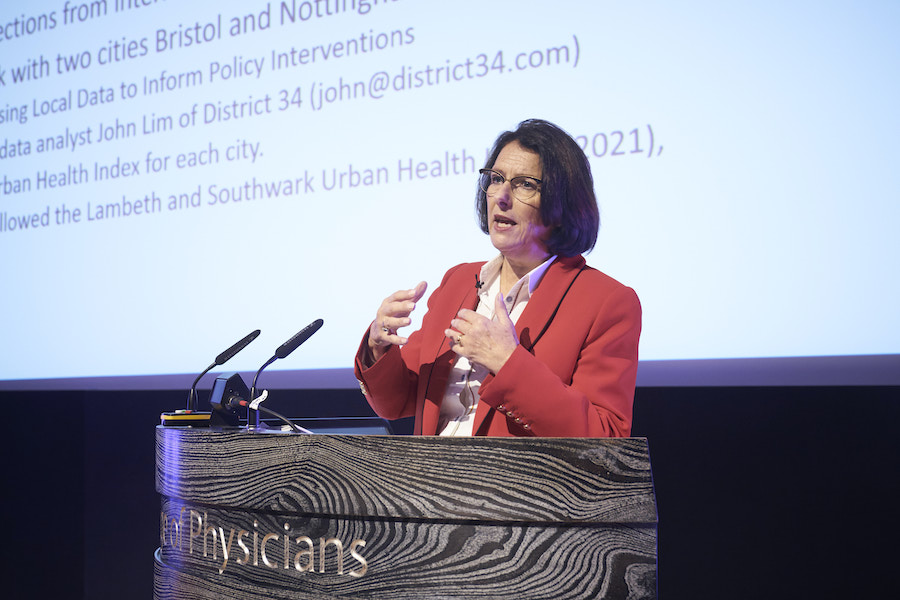 The Commission used evidence from global events to inform urbanisation and how existing urban infrastructure and communities can adapt to become more resilient in future infectious disease outbreaks. While the Commission focused its recommendations on the UK context, it also assessed the global evidence. Its target audience are those at the intersection between policymakers and practitioners in the UK's local and central governments and devolved administrations, including town planners, architects, urban designers, and allied health professionals, to inform the creation of our built environment.
The report outlined a series of health creation recommendations across different areas that could support the development of healthy cities. A key group are policymakers in central and local government, who are recommended to focus on: more affordable housing; health-related planning; local control (more proactive planning); quality; energy efficiency, including equitable energy efficiency; and levelling up.
On transport and mobility, there are proposals around reducing car dependency; transport planning and retrofitting environments; and winning the support of citizens. On public health and wellbeing, recommendations centre on planning for exercise – including increased support for community-run initiatives to reduce loneliness and social isolation; access to better food; and social prescribing.
There are suggestions to ensure good governance, notably inter-departmental co-ordination. Central government, for example, is advised to continue on its journey of integrating health not just with social care but, more broadly, with housing, transport and other services.
"It's easy to say, not so simple to do," said Prof Cooper, "both at central and local government."
Other good governance recommendations include devolution to local government; civic engagement; and prioritising health outcomes.
Finally, there is a set of recommendations on using data and evidence. City leaders, for example, should take advantage of available local and hyper-local data to invest in data analysis that can prioritise and focus policymaking, and evidence the outcomes. In addition, citizens and city leaders should use robust evidence to inform policies on daily living by accessing a healthy city toolkit, available at www.healthycitiescommission.org/toolkit
Concluding, Prof Cooper called on delegates to get on and start implementing the recommendations, and find creative leaders to push the agenda.
Creative leadership
This provided a seamless segue into a talk from Rama Gheerawo, director of the Helen Hamlyn Centre for Design, Royal College of Art, who drew on the teachings from his latest book, Creative Leadership: Born from Design.
The genesis of the book and model for creative leadership emerged from a single insight: we need creatives who are leaders and leaders who are creative. It was fuelled by an ache for equity and a realisation that if you change leadership, you can potentially change everything.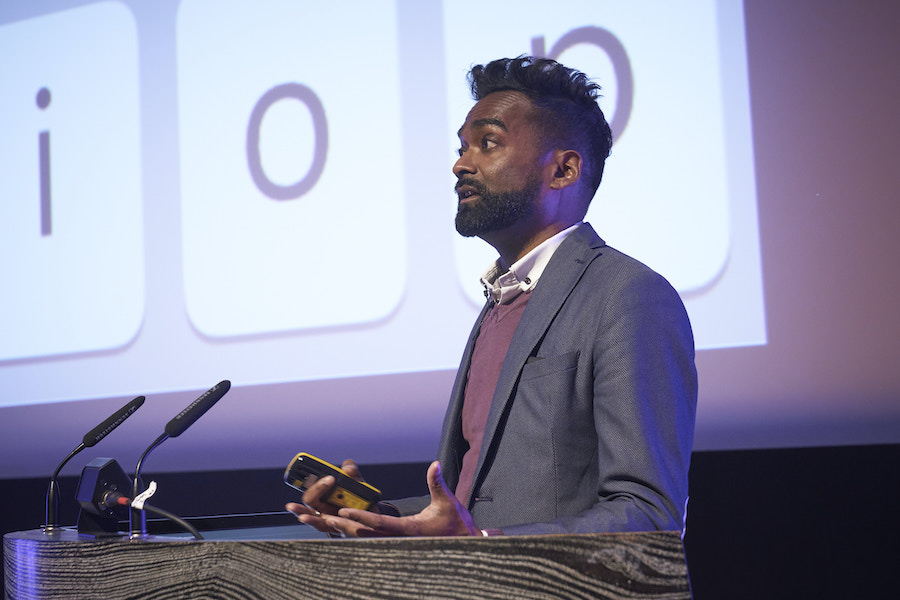 Aimed at all people, especially those who were never encouraged to lead, the book asks some bold questions, for example: how can leadership help us achieve equity, diversity and inclusivity? Why is creativity left out of most leadership manuals? Is there a leadership model that includes all ages, abilities, genders and races? Can inclusive design mend broken models of leadership? How can creativity fix broken models of leadership? Empathy is core to leadership but what other values balance it? And how do you achieve clarity in practice?
At the book's heart are the three leadership values of empathy, clarity and creativity. These are based on the principles that: everyone has leadership potential and most of us can access these three values; creativity is a universal ability to develop ideas that positively impact ourselves and others; empathy is the hallmark of a 21st-century leader and is recognised as a signature value; and clarity is the link that aligns vision, direction and communication, personally and professionally.
The interplay of these values is what gives the model its strength, explained Gheerawo: creative leadership proposes and cultivates a culture of inclusion.
"Empathy is a spectrum," he said. "You can have no empathy, like the Godfather, or too much, like the Dalai Lama."
Clarity is a spectrum, too. In early 2020, for example, there was no clarity on Covid-19, Gheerawo pointed out. Conversely, he admires the lucidity of Nike's three-word slogan, 'Just do it', for often motivating him to head out for a run on a cold, winter's day.
And creativity is also a spectrum, ranging from something like the Eye of Sauron, a symbol from The Lord of the Rings books that represented omniscience but an absence of creativity, to, at the other end of the scale, any congress or museum that cultivates creativity through the sharing of knowledge.
Creative Leadership: Born from Design is an idea of its time, drawing on enduring, human values. And importantly, it provides a platform for us all to create the leadership we want to see, and effect this change in the world around us.
Design and the art of care
This embracing of the human spirit expressed though Gheerawo's book also lies at the heart of the 'third carer' – a design concept that forms part of the 'Living Systems' proposal for a future hospital, the winner of last year's Wolfson Economics Prize. The architect behind the proposal, Ab Rogers, of Ab Rogers Design, took delegates through his ideas of how the hospital can act as an anchor for health equity and community renewal.
"We need to put the human at the heart of everything we're designing around," he said. "The hospital is more of a church than a machine. So we developed this concept called the third carer, which looks at the doctor, the nurse as the first carers, and the friend, the family as the second carers. How can the building, the interior, the space and the third carer really nurture you and what can they do to help?
According to Rogers' vision, the health centre of the future will be human-centred, empowering the individual to take ownership of their mental and physical health, It will be community-focused, defined by the needs of the people it serves, supporting patients, staff and visitors alike. It will be nature-driven, optimising the use of time, space, money, energy and materials, and harnessing the benefits of biophilia and biomimicry to positively impact on patients, users and staff. And it will be flexible and future-proof, remaining fit for purpose in an ever-changing world.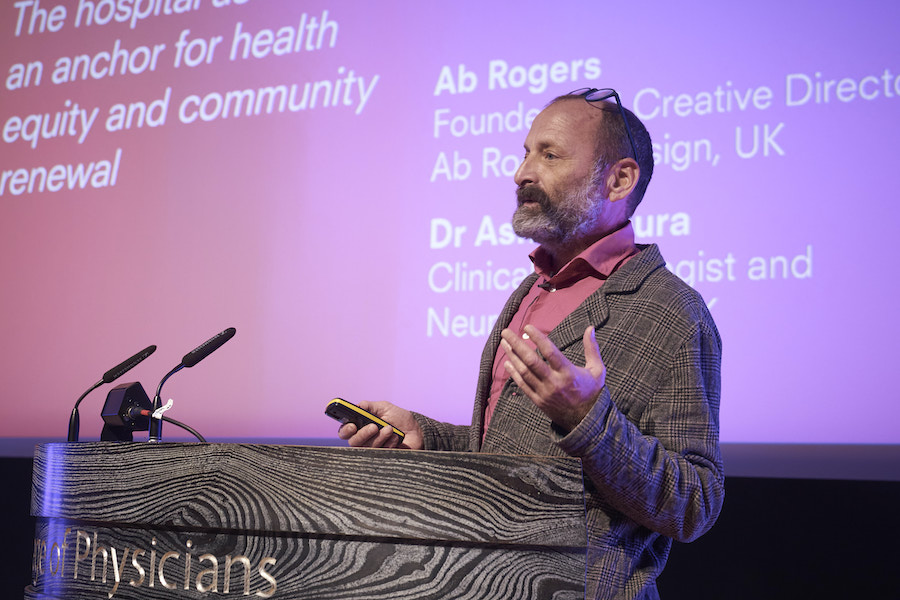 "The hospital hierarchy needs to be horizontal and democratic, not vertical and autocratic," he insisted. "It needs to be super-local and run by the people."
Design features include some quite radical ideas, none more so than getting rid of car parks. Rogers conceded this is controversial but is adamant that it's also necessary, describing the role of the car as "cancerous itself, as it erodes the public realm of the building".
Nature is in abundance throughout Rogers' model. A market at the bottom of the hospital creates a reason to visit and champion the quality of food produce and local supply. The plant is removed from the roof and inserted midway through the building, freeing up the roof for an urban allotment. Other features include a raised park and pocket parks, as well as typical hospital services, such as A&E, outpatients, ICU, wards, etc.
Human-centred approach
In making the hospital more human-centred, Rogers explained how his concept takes a hectare of the city away and gives the hospital back a hectare of greenery. The flower and petal-like shape of the building is a key element, ensuring the doctors and nurses, and visitors, don't need to walk too far. It also ensures people don't get lost in labyrinthine corridors, reducing the potential for stress. And the hospital is not just about the patient, underlined Rogers: "It's about the staff, making them feel more loved, more appreciated, bringing them more pride, and giving them more dignity to the hospital."
In delivering care, patients arrive on the sixth floor in the reception and communication space, where they're told where to go. The ward environment features a more domesticated set-up, with views out to nature.
"This is a modular system that can be very easily dry-mounted and reconfigured," explained Rogers. "We flatten the bed, we become private; we raise the bed, we become public. We're creating social dialogue and little communities, and we have social spaces at the front. Every ward also has access to a pocket garden."
In essence, he added, "the future needs to be an ecology, it needs to be an equilibrium from inside and outside".
The art of care continues to be expressed in other parts of the hospital. The outpatient waiting room, where, for example, people may be awaiting a cancer diagnosis, is designed as a place where life feels worthwhile and the experience is comforting. And for staff, there is a recognition of the importance of sleep deprivation, with Rogers posing the question: "Why can't we have [staff] beds that turn into offices in a soundproof, lightproof scenario?"
Concluding, Rogers described how the Wolfson Prize proposal had led to the establishment of a Design Research Unit (DRU+). This is looking at evidence-based design with a couple of universities; research on the use of health-promoting materials; designing dialogue campaigning for change; and, ultimately, designing for better healthcare.