In concluding the 6th Healthy City Design 2022 Congress, there was a chance to reward, celebrate and honour some of the leading lights of the event.
Judged by members of the Congress programme committee, the Healthy City Design 2022 Awards were presented in four categories:
Best Poster – for the poster that conveys new research or practice in the most informative, succinct and visually stimulating way.
Best Research Paper – for the paper that addresses the Congress theme of 'Diversity, inclusivity and opportunity for all' in the most original and thorough way.
Most Innovative Idea – for the single concept, model, tool, framework or project that breaks new ground in thinking about the design of healthy cities.
Healthy City Design Champion – for the individual or organisation that has done exceptional work of international significance over an extended period to advance the field of healthy city design.
In the 'Best Poster' category, the programme committee chose 'Expanding access to urban gardening – the contributions of community gardens and adoption/sharing schemes', by Yi Zhang and Tilly Collins of Imperial College London; Jazz Browne, from the Nubian Life Resource Centre; and Jamie Hilton, from Fulham Good Neighbours (pictured left). Their poster described a study that sought to evaluate and quantify some of the benefits of two access-to-urban-gardening scheme types.
The study, they explain, "begins to provide the basis of social return on investment (SRoI) calculations that help place a more accurate broad-scale valuation and a clearer understanding of the contribution that each can make across the range of benefit dimensions".
'Best research paper' went to Mark Drane, director of Urban Habitats, co-authored by Liz Green, a public health, policy and international health consultant, for 'Circular economies for sustainable health and wellbeing'. Their paper described Public Health Wales' use of health impact assessment to investigate the public health impact of refocusing on waste reduction and reuse in Wales.
The award for 'Most Innovative Idea' was presented to Gail Shillingford, a principal in urban and landscape design at B+H Architects. Her talk on 'Unpacking inclusivity' recognised how the pandemic has upended our common perceptions of what it means to build inclusive spaces. It advocated a re-examination of the meaning of inclusivity as it relates to processes and best-practice planning principles, to better understand what it means to build truly inclusive city spaces.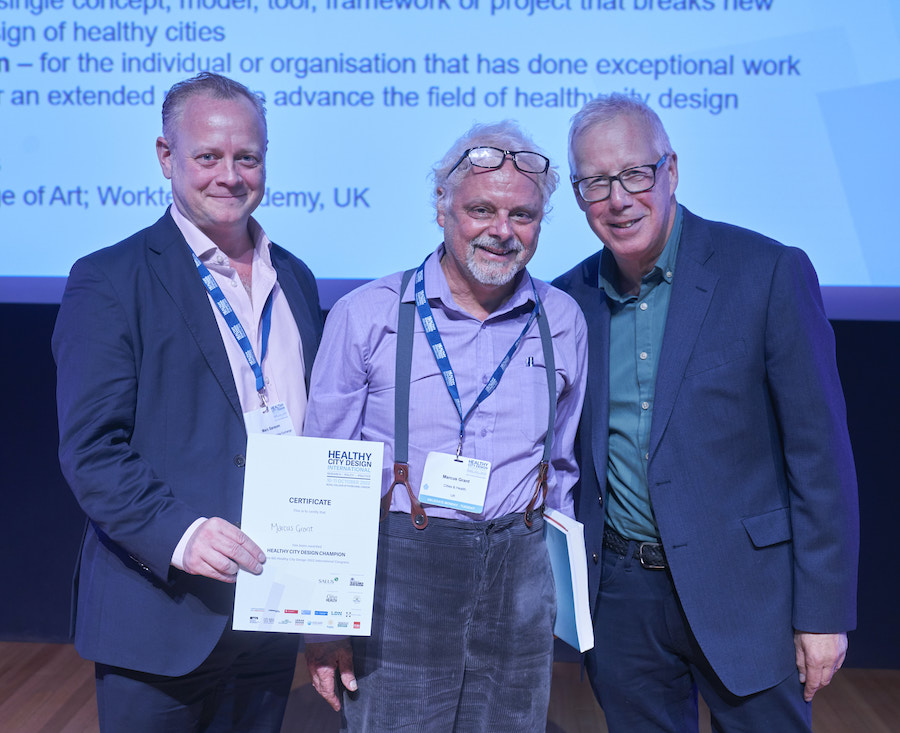 The final accolade, the inaugural Health City Design Champion award, went to Marcus Grant (pictured right), editor-in-chief of the journal Cities & Health.
With a background in ecological systems and urbanism, Marcus is an urban designer and landscape architect. In practice since 1986, he worked on rural and urban projects for a range of clients.
Following almost 20 years at the World Health Organization's Collaborating Centre for Healthy Cities, culminating as deputy director and associate professor, he went on to found the Routledge journal Cities & Health. He specialises in spatial frameworks and neighbourhood interventions to support healthier lives, planetary health and reduce health inequalities.
He has worked as expert advisor with the WHO and UN-Habitat, with communities and local authorities across Europe, and on the inaugural public health NIHR scientific funding panel. Marcus is a fellow of the Faculty of Public Health by distinction. Along with Hugh Barton and Richard Guise, he is co-author of Shaping Neighbourhoods: For Local Health and Global Sustainability.
Congratulations to all our Healthy City Design 2022 award winners.