The health of our future cities and the people living in them depends on cracking open all the vested interests and silos that became engrained during the 20th century post-war age. This was one of the dominant threads to come to the fore during a panel debate to launch the new Healthy City Design International Congress in London this October.


The debate, 'Unleashing health by design: creating a culture of wellness in our cities', was held last month at the Royal College of Art's Dyson Building, and it featured an esteemed panel comprising: Lord Andrew Mawson, executive chairman of Well North; Professor Rachel Cooper, professor of design management and policy at Lancaster University; Sunand Prasad, trustee of the UK Green Building Council and co-founder of architects Penoyre & Prasad; Dr David Pencheon, director of the Sustainable Development Unit at the NHS and Public Health England; and Professor Anne Johnson, professor of infectious disease epidemiology at University College London.


Chaired by Professor Jeremy Myerson, Helen Hamlyn chair of design at the Royal College of Art's Helen Hamlyn Centre for Design, the panel explored some of the key issues involved in redesigning our cities so that they promote health-creating societies that are more economically productive and socially inclusive.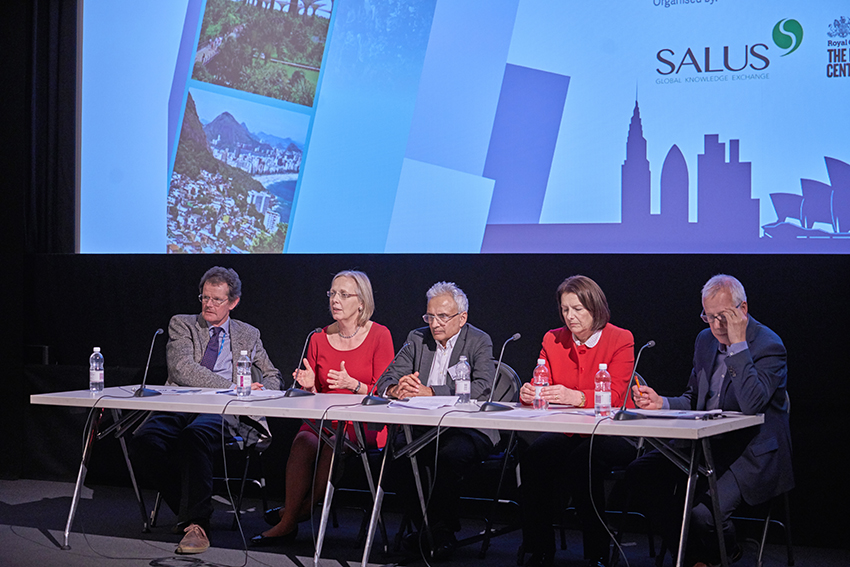 Introducing the panel, Professor Myerson explained that the need for healthier cities is paramount. "The urban planning profession emerged from health concerns created by the 19th century's crowded and polluted cities," he said. "In the 20th century, a whole lot of new issues emerged – the twin issues of climate change and urbanisation allied to an ageing population. We need to think about this in multi-dimensions, and we need to get our researchers and academic community, architects and designers thinking very hard about healthy cities."

Political context
In addition to the well-known demographic and environmental challenges, the current political situation was not far from the thoughts of the panel. Indeed, Lord Andrew Mawson stressed that, post-Brexit, the UK needed to become "a nation of innovators and entrepreneurs once again", and that the "real opportunity for innovation rests between the silos and in the connections between health, business, entrepreneurship".

Recalling his experiences from founding the Bromley-by-Bow Centre nearly three decades ago – a project seen as a national exemplar for successful community regeneration – Lord Mawson explained that cities need to join the dots in people's lives. Through the Centre's work, he realised that many people couldn't be defined as simply having a bio-medical problem but, in fact, had "a housing problem, an education problem, or an unemployment problem".

"What's health about?" he asked. "It's often about … a whole lot of vested interests that are nothing to do with 'Karen and her kids'."

Sunand Prasad said that behind the agenda of healthy cities are very human issues of "poverty, inequality and lack of life chances", pointing out that the cost to the NHS of treating people living in poor housing is thought to be around £1.4bn alone.

And commenting on the current political upheaval, Prasad argued that cities and local communities are where we must focus our attention, rather than the nation state.

"We have a fantastic opportunity to transfer our focus from the nation state to cities, which actually is eclipsed by the upsurge in nationalism and Brexit, and so on," he declared. "The city and local community are our units of government and governance that are much more transparent to people. They don't always carry the emotional charge of a nation state, which has played such a strong role in the current situation and the current divide in this country. But the city is a place where we can get together. The best cities are the ones that demonstrate the most amazing resilience and ability to innovate and expand."

The future has arrived but there's not enough of it
Addressing the issue of innovation, specifically in the health sector, Dr David Pencheon was mildly positive in his outlook, saying: "The future has already arrived; it's just very, very unevenly distributed and there's not enough of it."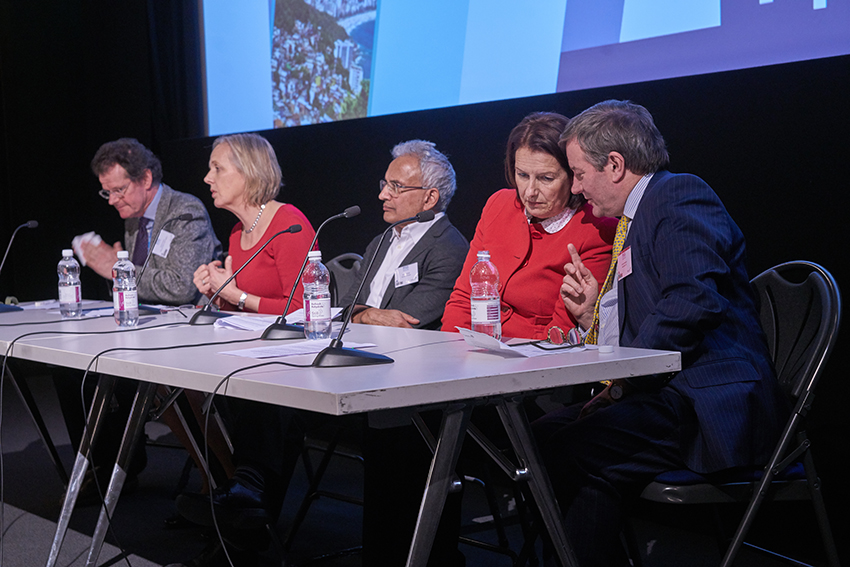 NHS infrastructure, for example, is beginning to adapt to the new world. He explained: "You can see that the NHS is not very interested in health by looking at many of its buildings. However, there are some intriguing buildings in the NHS," citing the new Alder Hey Children's Hospital as a health-creating area and praising it for involving its patients – the children – in its design.

Underlining another common thread from the panel – that we know how to innovate and what we need to do but we don't know how to do it – he called for new research not in structures but in systems, and, particularly, social ones.

"The knowledge of how we stop doing things that we're all incredibly financially and emotionally invested in is a real challenge," he argued. "So we need new research not in the structures we build but in the systems we build, and in the social systems we build that protect health, that addresses loneliness ­– [those things] that many people would say create the conditions that make life worth living."


Professor Anne Johnson also highlighted a new health-related building, the Francis Crick Institute, as evidence of the direction in which cities themselves need to move. She described the building – a world-leading centre of biomedical research and innovation, which opened last year in London – as designed in a way "so that everyone can see each other and in such a way that people are not stuck in offices or labs, but they can get together and interact. Those interactions are exactly the human interactions we've been talking about."

And on the issue of research in the field of healthy city design, Professor Johnson also stressed the need to dismantle silo-thinking. She pointed to a new initiative by the Wellcome Trust, 'Our planet, our health', which is attempting to engage people to work between the different disciplines of architecture, design, environment, law and ethics, in bringing together groups that work in and around the field of cities.

She added: "The design of cities, which includes water sanitation, food security and urban pollution, really needs the engagement of a whole range of disciplines, breaking down the silos between designers and urban planners, and working with communities to build these things."

What people want from cities
Echoing Professor Johnson's sentiments, Professor Rachel Cooper said: "Sixty-six per cent of the world's population will be living in cities by 2050. Therefore, we know we're going to need more food, more energy and more water. We also know that cities are going to have an effect on our health, particularly our chronic health, through non-communicable diseases."


But she pointed to a recent study in which people were asked what they desired from their cities, and this showed that they wanted them to be friendlier places, they wanted more space, not less, and they wanted the ability to travel.

She highlighted a number of tips for healthy city design, based on 30 years of literature and research in the area. These include: promoting physical activity and healthy diet; designing a neighbourhood for children; enabling independence in old age; designing homes with good sound insulation and which optimise natural daylight; providing ways in which communities can talk to each other, and facilitate good relationships through community spaces; helping people feel safe on crime; reducing the sense of crowding; and making moving around cities easier and stress-free.

"In short, [we need to] design cities that are easier on the eye, green, clean, accessible, friendly, courteous and affordable – simple," she concluded. "But, actually, what we're saying is it's not that simple, because you've got different communities and different silos."

Healthy City Design International – Call for Papers
The panel debate provided the platform to officially launch the Healthy City Design International Congress, which takes place in London at the Royal College of Physicians in London, on 16–17 October. The co-organisers, the Royal College of Art's Helen Hamlyn Centre for Design and SALUS Global Knowledge Exchange, have launched the Call for Papers, inviting abstracts for presentation on a number of themes, including:

Plenary theme
Urban planning and global health: visioning the future of world cities

Congress streams
Health, housing and neighbourhoods
Placemaking and the public realm
Transport, mobility, independence and health
Smart cities are healthy cities
Sustainable development: resilience planning and health
Workplace health: promoting a culture of wellness.

All abstracts and enquiries should be submitted no later than 21 April 2017 via an online form at healthycitydesign2017.salus.global

For more information, download the Call for Papers at http://healthycitydesign2017.salus.global/uploads/media/conference_document/0001/05/f9a7e5346942e3bbfae160b7b5d149d17ed6cbfc.pdf