Cities / Healthy Cities
City health, planetary health and the power of social movements
By Andrew Sansom | 18 Oct 2017 | 0
Designing healthier, more sustainable cities that respect the natural resources and ecosystems of the planet – and doing so peacefully in a cooperative, co-productive, multi-disciplinary and multi-stakeholder approach – is Nobel Prize winning stuff.
That's the extent of the challenge facing human society, according to Dr David Pencheon, director of the NHS Sustainable Development Unit, as he wrapped up a triple-header of opening keynotes at the first Healthy City Design Congress, organised by SALUS in collaboration with the Helen Hamlyn Centre for Design, Royal College of Art, in London this week.
Throwing down the gauntlet to delegates – a mix of architects, designers, urban planners, health professionals, academics, researchers and policymakers – Dr Pencheon attempted to break down the daunting task ahead by holding up cities, and the activities taking place within them, as "fantastic entry points" in thinking about how we design the future.
A social autopsy
He opened his presentation with one of the starkest images of the whole congress – a photo of a woman and child standing over 41 graves of people who had died in August 1995 during a heatwave in Chicago. Forty years previously, the city was struck by a similar heatwave but there were considerable fewer deaths, as people slept outside at night. The main reason that residents didn't do so in 1995 was fear of crime.
"One of the universal truths about climate change is not that climate change is going to kill us, it's that climate change is probably going to make us kill each other. It's what climate change does to us that will be the really dangerous thing.
"We technically know how to deal with this. What we don't know technically know is how to live in a concentrated, competing environment."
An important starting point is to frame the future in positive terms, to move the language from bigger to better, and to help harness and mobilise the power of social movements.
"Air quality and air pollution is a really good way of mobilising social power in all of us", said Dr Pencheon, "because air quality can be incredibly local – down to street level." Harnessing technology in a way that allows anyone with a mobile phone to monitor and measure the air quality in a particular area and feed this to a publicly available online resource "might mobilise it so that instead of talking about 40 or 60,000 deaths we talk about eight months of life lost".
Employing roughly 9 per cent of a city's population and accounting for around a tenth of a city's GDP, the healthcare system as an anchor institution can be another major player in the future of healthy urban environments, explained Dr Pencheon, and should be taking on a role far beyond its traditional remit of delivering care.
"I would argue that you can do more about inequalities in a city from the healthcare situation by looking at how we employ people, how we buy goods and services, how we partner with other public and private-sector organisations, in providing an environment worth living for in a city."
Examples he shared with the audience included a huge renewable energy project undertaken by Antrim Hospital in Northern Ireland and which paid for itself in less than a couple of years. Another example included efforts by South Central Ambulance Service NHS Foundation Trust to use technology so that their ambulances did not have to remain idle.
On the latter, he remarked: "People may think it's a very trivial thing, but it's very important to use technology to show that we can embrace a low-carbon future without prejudicing the opportunities we have now."
And further afield, he highlighted the largely car-free environment of Bogota, Columbia. "Don't underestimate the power of social movements, if you ask the right questions in the right way.
The reason why Bogota is car-free most days is political. The mayor was elected on the mandate, on the slate, on the pledge that 'I will free your streets of cars'. I think cities are tremendous entry points into how we design the future."
Healthy streets
Dr Pencheon's talk helped tie together the preceding keynotes from Valerie Shawcross, deputy mayor of London for transport, and Sir Andy Haines, professor of public health and primary care at the London School of Hygiene & Tropical Medicine, and chairman of the Rockefeller Foundation-Lancet Commission on Planetary Health.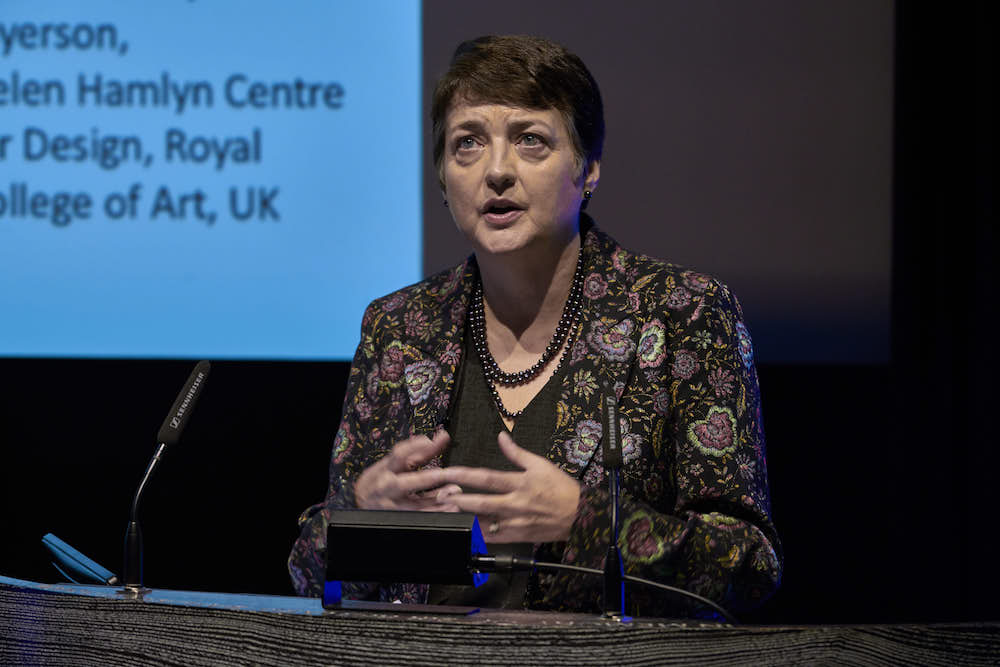 Ms Shawcross described the work of the Greater London Authority and Mayor Sadiq Khan in improving people's daily lives, their health and happiness through the Healthy Streets policy, part of the London mayor's draft transport strategy. Measures include: delivering new cycle routes, better walking and pedestrian environments, and more accessible streets; promoting step-free access across public transport network; and providing new public transport network capacity.
She explained that the Healthy Streets approach is derived from a medical evidence base; focused on reducing health inequalities; and framed around what daily life is like for London's citizens. Progress towards the design of healthy streets will be assessed and gauged in relation to 10 indicative tests – questions such as:
Are we making our streets easier to cross?
Are we making the air cleaner?
Do people feel safer on the streets?
Are we seeing more people choosing to walk and cycle and use public transport?
She said: "The biggest barrier to making London a happier and healthier place is the problem of car dependency. People don't feel safe necessarily and the air quality is very poor in some areas of London.
"Some people think it's impossible to get people to give up their cars, but we've seen modal shift towards walking and cycling and public transport. Since 2007, the proportion of London households that own one or more cars has reduced from 60 per cent to 57 per cent; in 13 out of 33 boroughs, it's now the norm not to own a car.
"The trend in reducing car use should continue and we'll be actively promoting it."
Planetary health – unknown territory
Sustainable transport was one area of many that Sir Andy Haines touched on in a global overview of the challenges facing human societies and cities in the new Anthropocene epoch, characterised by humans' influence on the planet and its natural resources.
There is growing evidence, he said, that the finite planetary boundaries in which human civilisation has flourished, are now being eroded "where sudden non-linear shifts in the environment can't be reversed, such as the major melting of ice caps".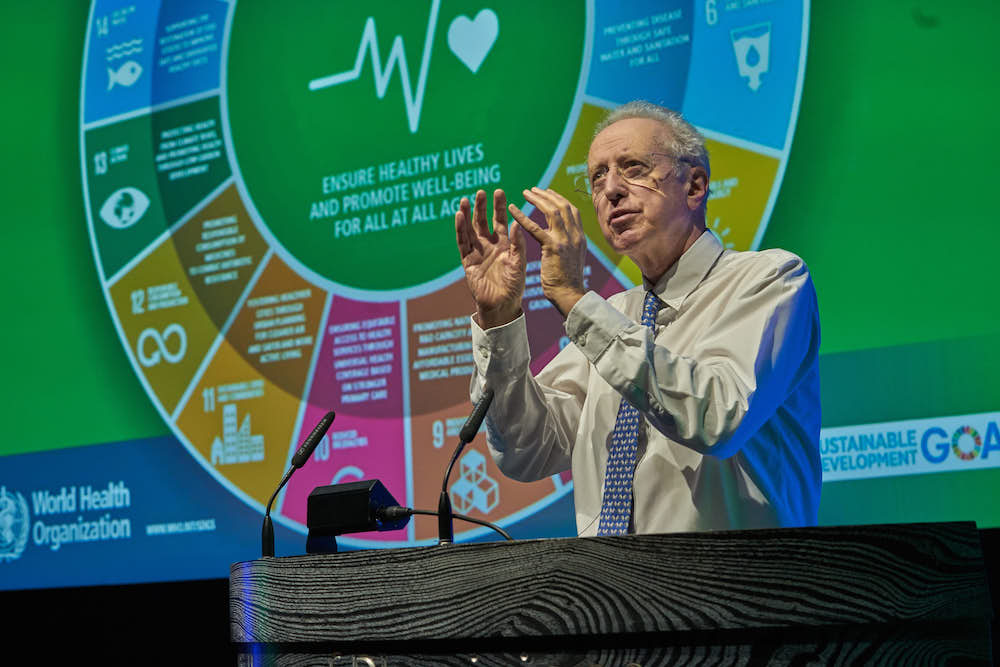 The effects of these changes are significant in the context of socio-economic change, such as growing ageing populations and migration to urban environments. Indeed, cities can amplify the effects of climate change through the urban heat island, explained Sir Andy, potentially contributing to increased death rates among the elderly, infirm and vulnerable. Uncertainty exists around the effect from temperature changes on crop yield, while the decline of pollinators, such as bees and butterflies, may lead to increasing rates of non-communicable diseases, owing to a related reduction in fruit and vegetables. And environmental change may trigger conflicts around the world; indeed, there is evidence that a recent drought in Syria drove people into the cities from rural areas and pushed up food prices – contributing, in part, to the crisis in the country today.
Sir Andy highlighted four key global strategies for cities to mitigate planetary ill health effects – transport; universal access to clean, low-carbon energy; providing safe access to green spaces and capitalising on ecosystem strategies for resilience; and housing improvements and water sanitation.
Air pollution reduction through decarbonisation has saved many years, he explained, pointing to a recent study by the International Energy Agency, which suggests that 3 million lives could be saved by 2040 annually with a 7 per cent increase in investment.
Sustainable transport trends are emerging, including car-free zones, car sharing, smart cars, etc. Recognition of the importance of green spaces – for example, in increasing biodiversity, improving human health, alleviating stress and depression, and reducing the heat island – is growing. And movements around sustainable diets to improve both human health and planetary health are also on the rise. In the UK alone, it's believed that greenhouse gas emissions relating to human diet could be cut by between 30 and 40 per cent through eating more fruit and vegetables, and eating less meat.
"The challenges facing humanity are really very, very significant," concluded Sir Andy. "We've advanced dramatically in recent decades as a species. We've reduced deaths from communicable diseases and extended life expectancy by over 20 years, but this has come at a tremendous cost. The cost has been borne by the environment, and those environmental trends will increasingly impact the future trajectory of human development over this coming century."
He continued: "But solutions do lie within reach. One recommendation is that we need to look again at the definition of prosperity and not be so obsessed with increasing GDP. Rather, we must look more widely at the quality of human life and the sustainability of our natural systems."